This is a great organization that deserves all the support it can get. Visit their site to see all the ways you can contribute.
If you want to make a one-time donation, please click here.
PROVIDE COMFORT FOR AN INJURED WARRIOR WITH A ONE-TIME DONATION
Please click here if you would like to make a gift in honor or memory of an individual.
If you would like to become an Advance Guard monthly donor, please click here.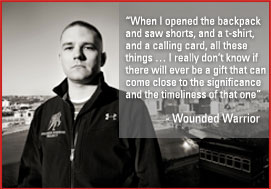 Your generous, tax deductible donation to Wounded Warrior Project enables us to help thousands of injured warriors returning home from the current conflicts and to provide assistance to their families. As the number of wounded steadily increases, it is easy to see how the needs of these brave individuals also increase.